President's Message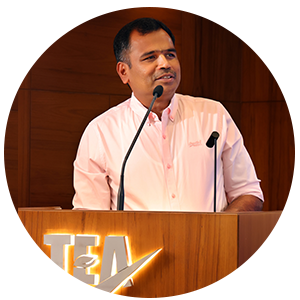 K. M. Subramanian
I am glad and thankful to all our members for reposing faith on me and elected me as a President of our prestigious Association unopposed and particularly thank our beloved Honorary Chairman, a leader for excellence Padmashri Dr.A.Sakthivel who has stood by me and encouraged to take up this position in the interest of our export sector. I have a huge responsibility and assure you that I certainly do full of justification for the post and sincerely follow the legacy of our Honorary Chairman. I served as an Executive Committee member of our Association for 9 years, also had the honour of serving as vice-president under our Honorary Chairman and also privileged to work as a member of the AEPC Executive Committee for the past 7 years along with Dr.A.Sakthivel. I have a good team of Office Bearers, Executive Committee Members and together we aim for the growth of our industry.
The Association is always ready to provide its hand holding support to our members, if the industry faces any problems, I would be ready to get rid of them and aim only for development, so that Tiruppur and the country would gain reputation.
Our first priority would be to make a representation to expedite signing of a FTA with the UK and once the agreement takes place, the knitwear exports from Tiruppur will grow significantly and moreover, the UK buyers have already shown interest in increasing purchase from our Country. As far as the envisaged agreement with EU is concerned, three round of negotiations have been over after resumption of talks with them and with a good progress, we hope that it would be signed before the end of next Financial year.
Sustainability is a buzz word often used in all areas, traceability and recycling are order of the day. A few of our buyers have already started insisting to go for sustainability and we expect that all European buyers will follow suit and in view of this, we will take efforts to announce Tiruppur as a sustainability cluster since, we have already implemented Zero Liquid Discharge, made investment for production of non-conventional energy Wind and Solar, eight times more than industry requirement in Tiruppur, till now, planted 1.5 Million trees and also recycling of cutting waste and pet bottles to protect environment. The units have also been taking efforts for water conservation. Our objective will also include Green Tiruppur and Brand Tiruppur. 
We have also decided for construction of working men and women hostel separately to accommodate minimum 20000 people and also planned for construction of housing facilities for workers to stay with their families. As Tiruppur is not having a sports stadium, we have decided to construct an international standard sports stadium.  
Regarding workers welfare, we will make efforts to identify drug addicted workers and will bring them into the right direction through the sports activities. The government is now consulting with industry representatives before announcement of PLI-2 Scheme and we will make a suitable representation considering the benefits reached to MSMEs in Tiruppur. 
We have made a representation to the Hon'ble Union Minister of Commerce, requesting to enhance the benefit under Interest Equalization scheme from 3% to 5%, so as to increase competitiveness of our products in the global market.