President's Message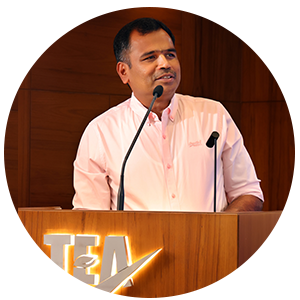 K. M. Subramanian
In continuation of our efforts to serve the fellow exporters of Tirupur, the office bearers along with our Honorary Chairman Dr. A. Sakthivel met the Drawback committee headed by Shri. G.K. Pillai in April and put forth a strong case for upward revision of drawback for knitted garments. I am happy to inform the members that with effect from October 30th, the drawback for knitted garments has been increased. The increase ranges between 0.5% to 1.0% depending on the type of garment. I would like to place on record our gratitude and appreciation to Smt. Nirmala Sitaraman, Hon'ble Minister of Finance GoI, Shri Piyush Goyal, Hon'ble Minister of Textiles, Industry and Commerce, GoI, all members of the drawback committee chaired by Shri G. K. Pillai, Our Honorary Chairman Dr. A. Sakthivel and all members who helped us in providing and collating all the data required to build our case for an increase in the Drawback level. It is indeed heartening to inform that with the data provided and based on our request, the issue we had in the HS Code for 'Multifibre' was solved and it stands corrected now.
In another positive initiative by the association, our arbitration council, by relentless efforts, has successfully managed to recover an amount of Rs. 13 Crores from a few American and European buyers which was remaining unpaid to some of our exporters. Steps are underway for settlement of some more disputes and recover due amounts. The association is taking steps to conduct awareness programmes on preparation of foolproof commercial and legal documents to meet international standards which would make our legal cases, if any, strong.
Apart from the interest of the member exporters, the Association is genuinely interested in the welfare of all the stakeholders of the Tiruppur cluster. With this objective in mind, the Association successfully relaunched the Tirupur Stakeholders Forum (TSF) on 12th October, 2023. Shri. T. Christuraj IAS, District Collector of Tiruppur officially inaugurated the Forum. The grand function was presided over by our Honorary Chairman Dr. A. Sakthivel and was attended by Shri. Peter McAllister, Executive Director, ETI, Representatives of Brands, Trade Unions, NGOs, UN Women Wing and officials from Labour Department & DISH, GoTN.