President's Message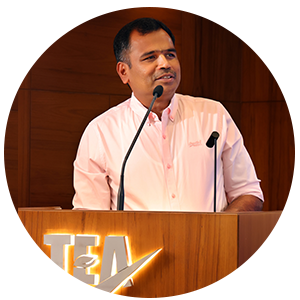 K. M. Subramanian
We were happy to organize a meeting with Smt. Darshana Vikram Jardosh, Hon'ble Minister of Railways and Textiles, Government of India in Tirupur on 28th February 2023 and a Memorandum was submitted requesting to address the points like announcement of Production Linked Incentive – 2.0 Scheme expediently, Requirement of new Technology Upgradation Fund Scheme (TUFS), Interest Equalisation Scheme to increase from 3% to 5%, Export Refinance Scheme, Requirement of a Special Scheme for MSMEs under ECLGS, allocation of 0.5% export turnover of cluster like Tirupur as Infrastructure Development Fund. The Hon'ble Minister had said that PLI 2.0 Scheme draft is ready and would be announced in the coming month and pointed out the doubtfulness in continuance of TUF Scheme.
Regarding enrichment of existing "Tamilnadu New Integrated Textile Policy 2019" Department of Handlooms and Textiles, Government of Tamilnadu has appointed M/s. Price Water House Coopers Pvt. Ltd., and a team of officials visited TEA on 8th February 2023 and in the course of discussion, we have requested to address the points like increasing Overtime per Quarter from 75 hours to 115 hours, as like in Maharashtra state , Permission for availing state capital subsidy also when the investing unit availed central subsidy, Support for Upskiling of existing workers and skilling to new workers, To be set up Research centre for product diversification and Process improvement in Tirupur, Increased allocation of Capital Subsidy for investment in all machinery, Support for Market promotion, Industry Related Infrastructure in Tirupur, Transportation subsidy for fetching workers from far away places, Support for construction of labour quarters and working women hostel, International Air connectivity from Coimbatore, and Exclusion of MSMEs from BASEL III Norms.
In the FTA front, the next round of negotiation for the proposed FTA between India and the UK is scheduled between 20th March 2023 and 24th March 2023 and the Commerce Secretary has stated that talks are progressing and it was closed for 13 Chapters out of 26 chapters in the Agreement. We are hopeful that the talks would conclude in the coming months and after Agreement, by taking the Duty Free advantage, Knitwear Garment exports from Tirupur to UK will grow by at least 30%.
The Hon'ble Union Minister of Textiles and Commerce and Industry Shri.Piyush Goyal has stated that a Free Trade Agreement with the European Union would take longer as negotiation with the 27 Country Bloc would be prolonged, as they have to come on the same page.