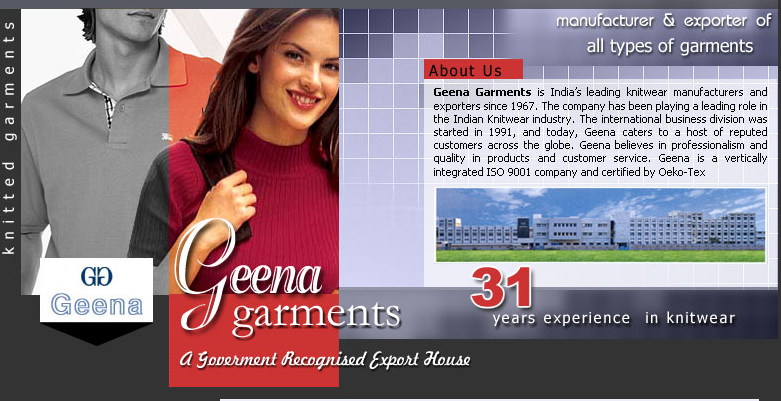 Geena has made great studies to become a name to reckon, with an annual turnover of US$ 9 mn. with over 550 employees.
Geena was founded by
Mr. A.Loganathan
, Chairman of the company, in 1967 to manufacture knitwear garments for the Indian market. Right from inception the policy of the company has been to provide total customer satisfaction by offering quality knitwear in time. Uniqueness of Geena lies in its clearly designed quality policy and management structure and the capability to offer a wide range of knitwear including garment washed knitwear, garment dyed knitwear, UV protected knitwear, Spanish finish,bio-wash, organic
cotton apart from the mainline products of regular knitted garments range. Geena is also quite conscious of its social obligations and employees' welfare measures. Our social policy is fully in accordance with the laws of our country.
Quality Policy
We trust in continual improvement of Productivity, Quality, Service, Relationship and Human Resource to achieve our goal of Total customer satisfaction.
Mission Statement
Our mission is to supply garments worldwide to fashion market, where the garments supplied provide better value in quality, price, and service than it's competitors so that the whole supply chain is benefited.
Contact Us



 

Geena Garments

Tel : +91 421 2471871

Email: geena@vsnl.com

410 R.K. Nagar,

Fax: +91 421 2470076
 

P.N.Road,

Contact person:
 

Pichampalayampudur PO

,

Mr. A. Loganathan,
 

Tirupur - 641 603

Chairman

 

India.